Thursday, January 13th, 2005
Tags:
Events
,
Finished Projects
I bound off my latest project and it's a bit too small. So I'm going to have to pull out a bunch of stitches AGAIN and fix it. Or maybe I'll just leave it the way it is, because it was getting on my nerves. It was good practise with intarsia and fair isle (knitting with different colours of yarn), so I'm writing it off as a learning experience. Maybe I'll go back to it in a few weeks.
I also finished the previously mentioned SECOND BEST IDEA EVER: a little condom cozy. I used moss stitch with a pretty red yarn, so it's stretchy and wonderfully textured. I just did some tests and it gets a bit bloated with 8, so I'm saying a healthy capacity is between one and six condoms. It's really easy and fun to do, so if anyone wants one of their own I'd be glad to knit it for you.
In the next week or so, I want to organize a knitting bee, both for those who know how to knit and those who don't but want to learn. If anyone wants to hit this up, let me know when you're free. I'm available most weekdays. No experience necessary!
Click below for pics of the cosy and from last night.


Yes, we went to Stages.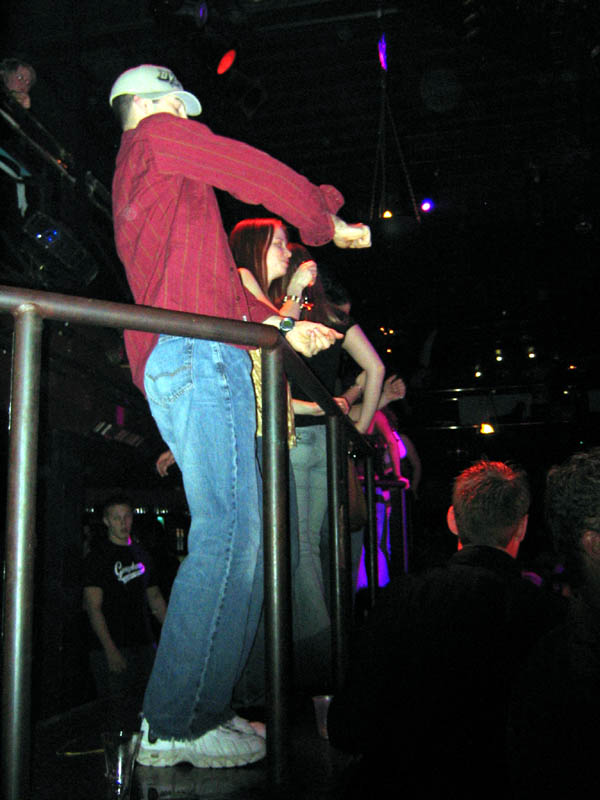 This guy danced hilariously. We nicknamed him Justin, after the illustrious Justin Timberlake.
Related Posts: