Friday, June 16th, 2006
Tags:
Blog Tools
,
Canadiana
What's this?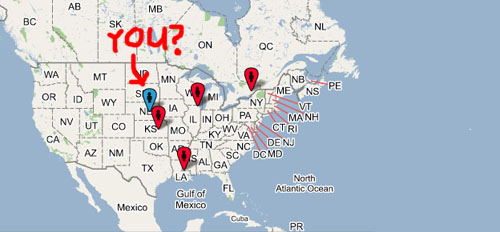 I've just created a frappr map to locate the world's knitbloggers! I'm curious to see where most of us are. I'm also hoping there are lots in Canada! I'm feelin' kinda lonely up here

As many other knit bloggers have noticed, it seems like there's been a lag in knitting and knit blogging recently. Many of us have fallen back on memes to keep our posting steady. Hopefully this can be another meme that people will take part in for the greater good. If this gets big, people can use this to organize get togethers (check out the map, find everyone nearby) or just to stalk.
If you're reading this and you're a knit blogger, add yourself to the map! And if you're especially nice, you'll post a link on your own blog to frappr.com/knitbloggers so that your readers can add themselves as well!
Let's populate this map!
Related Posts: