Tuesday, August 29th, 2006
Tags:
Future Knitting Plans
,
Garter Stitch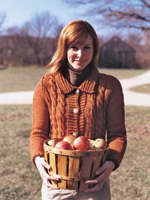 I really like the look of the cables matched with the garter stitch in this cardigan from Knit Simple Magazine. The model is holding apples and it reminds me of all the wonderful things that happen during Thanksgiving (and for me, that mostly involves eating). It makes me want to go to Black Creek Pioneer Village. When I was a kid I won second place in an apple pie baking contest there. I cut out a picture of a unicorn in pie crust and put it on top. I even glazed it a little bit with milk so it would turn out a touch darker than the rest of the crust. I think I used a horse cookie-cutter and then added a horn. It was the cutest pie you've ever seen! Hmm, maybe I just want pie.
I've decided that if I indeed knit this sweater I'm going to refer to it as the Pumpkin Cardigan. I wouldn't knit it in the orange — even though I'd love to because it's such a cute colour — because orange is just not complexion-friendly for me. I'd do it in a bright green, or maybe in the purple Lang Fantomas Superwash I bought a little while ago.
Related Posts: