Monday, October 2nd, 2006
Tags:
Mittens
,
Yarnival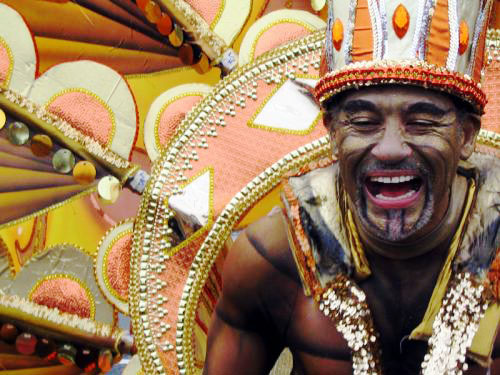 It's that time of the month again! Time for Yarnival!, a bullhorn for the knitting blogoverse. The focus is on dyeing this time; looks like a lot of us have been "drinking the Kool-aid," and using it, too!

This issue of Yarnival! is sponsored by Pick Up Sticks, a yarn store run by Connie Meeke. Connie tells me she's constantly on the lookout for unique yarns, and she's not kidding: she carries Sweet Georgia, Apple Laine, Claudia Handpainted, and Posh Yarns (which is a cashmere/merino blend). She's also supporting the cause against breast cancer by providing the prize for the Pretty in Pink contest. Go over to her website and support a fellow Canadian!
One thing I noticed about the submissions for this issue is that many of the people who submitted last time (but didn't get in) didn't submit to Yarnival for this issue. Please don't be discouraged! If at first you don't succeed, try, try again. Even if you don't submit, let's hear your feedback! Send me an email or leave a comment at the end of this entry about which posts you liked best, and what you'd like to see in the following issues. (Here's an introduction to the Yarnival! Carnival, if you've never heard of it before.)
Features
Kate is tired of luxury yarns.
I'm cheap, so I never really bought into the latest craze of wacky, high-priced luxury handspun with beads and ribbons and the kitchen sink woven into them (the ones that could only really be used to knit a funky scarf). For newer, richer knitters, this is a different story, and Kate's got a bone to pick with upscale yarn stores that pander to this particular demographic. Selling the idea of luxury isn't new; if it was, noone would ever buy a Cadillac Escalade. But selling it to knitters feels like a betrayal, because we've all got that concept of the little old lady yarn store owner with the cat and the bright friendly smile and the sweater by the cash register for her grandson. How could she do that to us? How dare she hike up the price?
In light of some current controversy, Kate suggests a button and an up-to-date list of yarn manufacturers with unseemly business practices, to warn newer knitters about yarns that talk the talk, but don't walk the walk. I'm not sure how well that would catch on; I don't think the sort that would be duped would come across it on the internet, because they wouldn't think to look. The Yarndex, however, seems like a better option. Not many people realize that Yarndex has a review section. Until I specifically checked it just now, I thought they didn't have one. It's hidden at the bottom of the page, and you have to register to leave a comment. (This is probably because bad reviews mean decreased sales; Yarndex is owned by Yarnmarket.com.) But if more people actually did leave comments, think of the revolution! It could be like checking amazon for book reviews before buying a book. If you hate a yarn, leave a bad review as catharsis. If you like it, leave a good one. The newbies may still miss out, but the smart ones will have a new weapon in the war against fibre rip-offs.
For Julie, the messy bits are just as newsworthy.
The news broadcasters are trying to package everything as clean and simple, but it's not. Sure, it's their responsibility to present the news in as clear a manner as possible, but biases get in the way and sometimes there aren't any clear answers. Same goes for knit blogs and WIPs. I'm guilty of this at times; presenting a project as nicely as I can, hiding loose unwoven ends, waiting for the finished object until I post. But just like the truth is sometimes messy, so is the knitting process, and we shouldn't deny that process its time in the limelight.
Irene is knitting away, despite how hot it gets in herre.
I'm glad I live in Canada, because I always have an excuse to knit a pair of mittens or a scarf. I don't have to justify it, or base my knitting decisions on how hot it is outside. I knit for fun, but also for necessity. Not so for Irene. She lives in Tucson, Arizona, in the kinds of temperatures that would make those of us above the 49th parallel wilt. How on earth does she put up with it?
Anne writes a letter of apology to her yarn.
This is the sort of story that makes your toenails curl. All that yarn, gone! My heart goes out to you, Anne. This is the kind of loss worthy of a Jimmy Stewart movie. It's a wonderful life, Anne, don't worry. Every time a needle clicks, an angel gets its wings.
Dye me a River
Kristin has produced a fantastic three part series explaining exactly how she goes about dyeing her yarn. It's got lots of great pictures, and suggestions for products to use and tips for beginners. She starts with an ingredients list, which is a necessary reminder for the folks who want to start right away and forget about this or that chemical until they realize they have to dump it in within 5 seconds or the mixture will be ruined. (I've learned this lesson many a time while baking.)
Kelly presents her two part experiment in overdyeing, with colour comparisons and everything. Very sharp.
Aija starts her post with a picture of brains, completely winning me over. She continues with a great introduction to acid dyes, and why you shouldn't fear them. There are also some great tips on where to buy these dyes. I may buy some myself, if I can convince my housemates to let me play in the kitchen sink. Err… maybe the bathtub would be better.
Finished Objects
Those who can, teach
Jen has illustrated a tutorial for the Purl Long Tail Cast-On. I'm not sure how easily I'd be able to follow the illustrations (I'd do better with photographs that show where the yarn is at each point), but her suggestions for alternating between knit and purl cast-ons for ribbing is a great idea.
Knittopf
The Page 24 Hunk
This is a bit of an old post, but noone submitted a hunk this time and so I had to find one of my own. Catheroo doesn't understand it, but I don't think you have to. You just have to enjoy.
Special Copyright Notice: The posts linked from this page are each the property of their respective authors and are subject to the copyright restrictions as specified by each site. Unless otherwise noted, no reproduction is allowed without express written consent.
Related Posts: