Wednesday, October 18th, 2006
Tags:
Charts
,
Patterns
I love Barbara Walker. Because of her (and of course Becky from Knitting Interrupted), I have this beautiful lace to look at: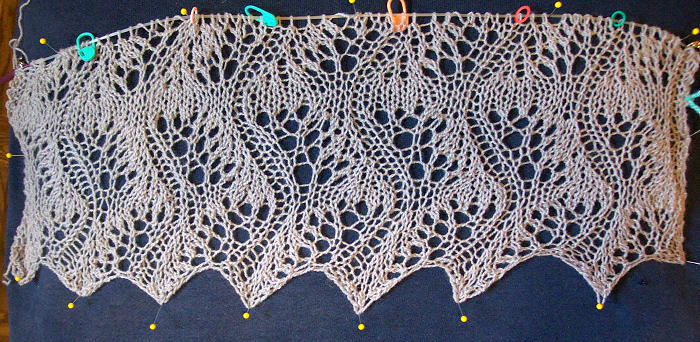 It's the Japanese Feather Stole from knitspot, a blog that is starting to become one of my favourites. The stitch pattern is from Barbara Walker's second treasury, and I have fallen head over heels in love with it. I love it so much that I went to Indigo yesterday trying to find the book so I could buy it just to discover the secret of this delightful 28-row repeat, but it wasn't in. Not at the library, either. Sigh.
So I decided to do some detective work. I searched for Japanese Feathers and found two free patterns that were based on the Japanese Feathers stitch: Japanese Feather Socks, which I'd seen before and also drooled over, and the Wavy Feathers Wimple, which I'd seen before and… also drooled over. I believe there's a pattern emerging.
I picked the socks from which to harvest the stitch pattern. I carefully went through all the directions and translated them into individual stitches using a bit of Find/Replace, and then I plopped them into my new best friend, the Chart Creator. And voilà :
A round of applause for the internet, please…
Related Posts: