Thursday, October 19th, 2006
Tags:
Ideas & Inspiration
,
Socks
These are my favourite socks ever, and they are both missing mates so I wear them together and sometimes their awesomeness overwhelms me. I am overcome by the occasional case of the vapors, for which only hysterical paroxysm is the cure. I'm sorry, that was a bit rude.
The reindeer socks make it feel like Christmas year-round. I swear, I have far too many Christmas socks. Every year, the joy of the season convinces me to buy another pair. These are my second pair I ever bought; the first had a picture of Daffy Duck in a santa outfit, and if you pressed the giant pudding he was holding it would play "We Wish You a Merry Christmas."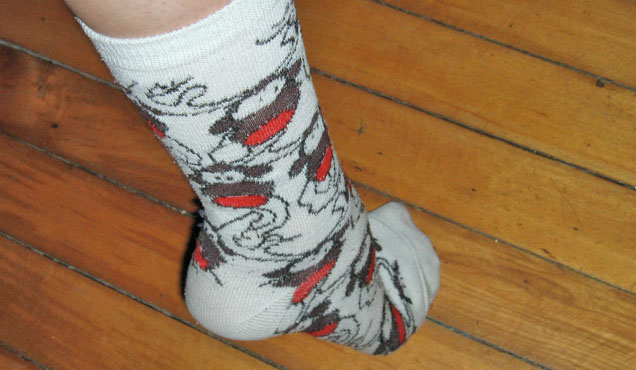 This is my favourite sock in the whole wide world. I bought it in Germany, and it says, "Was'n das? Porno?" which translates to, "What's that? Porno?" Get it? You have to think about it from the dog's point of view, you see. It says HOT DOG! Ooh, saucy.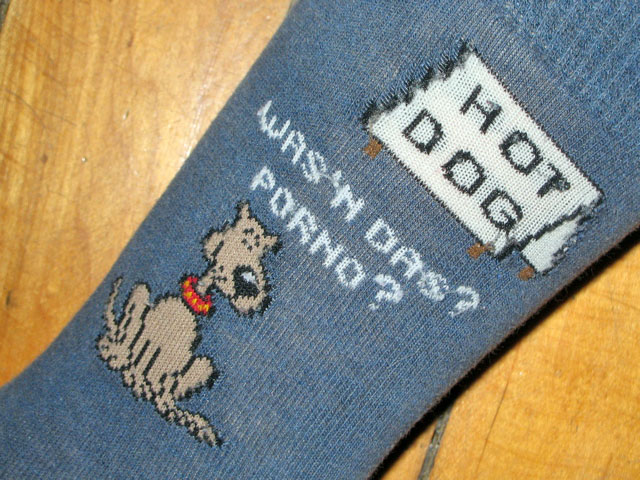 Related Posts: