Monday, October 30th, 2006
Tags:
Future Knitting Plans
,
Ideas & Inspiration
,
Linkage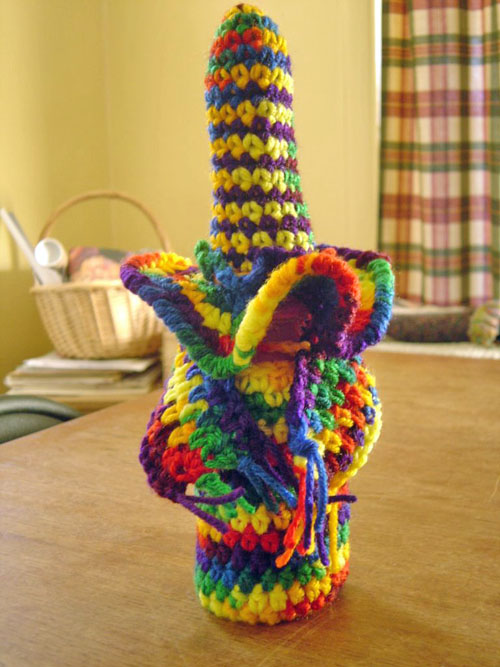 Hoo boy! That last post was a downer. I didn't want that one to be up for so long, considering that I was no longer feeling all that rotten after about 5 minutes of maxin' and relaxin'. It was all, Quelle dommage! to Allons'y acheter quelques prostituées!
Speaking of les prostituées, PingMag recently published a short piece entitled The Strange World of Women's Private Time. It's actually quite interesting, and maybe a bit inspiring (at least in terms of the cute clothes). But if you don't want to open that page because you think Betty in IT is watching your internet habits, you can go check out this hilarious crocheted "hot sauce" holder instead. It's for holding your… ahem. Hot sauce. It looks like a mouse who had an anvil dropped on his head, and now he has a lump of Loony Tunes proportions. Seeing as it's just two tubes, a sash and a bit of frill (now doesn't that sound like a movie you'd keep behind the counter), it's easily replicable in knitted form. I'm sure you can increase or decrease the length of the lump to accomodate a different size… hot sauce bottle. And if you're needing to increase the girth (because you have a very thick… er… hot sauce bottle), just knit at a larger gauge.
Now remember, this is for hot sauce only. Don't you girls get any ideas. It's for HOT. SAUCE.
Related Posts: