Thursday, December 14th, 2006
Tags:
Linkage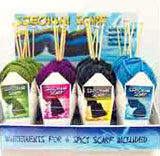 More like you pay for the packaging.
Take-out Scarf Knitting Kit

Assorted "flavours": green pepper, sweet & sour, black bean, lychee.

21.50$ CAN

Contains all the necessary ingredients for a spicy scarf! Includes approx. 108 yards of acrylic yarn, knitting needles & instructions.
It's not even called a pattern. It's called instructions. For $21.50 CAN.
Related Posts: