Tuesday, January 16th, 2007
Tags:
Linkage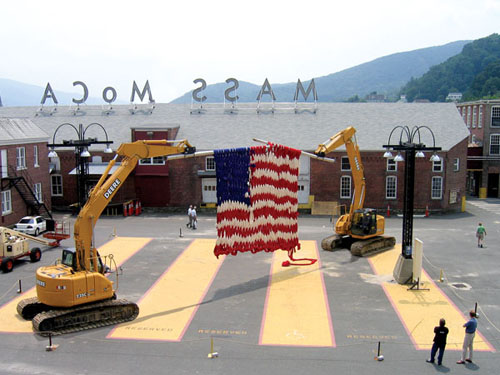 The Knitting Machine is just one of artist Dave Cole's large scale projects that consist of ambitiously knitting unconventional materials. In this particular piece Cole uses two excavation tractors equipped with 20-foot knitting needles to assemble a giant American flag in time for the 4th of July (2005). This work was part of larger exhibition and artist residence held at Mass Moca, North Adams, Mass. Cole describes the work as "combining the feminized domestic American tradition of knitting with the grandiose gesture of construction".
Yeah yeah, more gender-commentary stuff I know, but dudes, they're 20-foot knitting needles! Powered by giant crane things! If men knitted more, I'm fairly sure they would make electric knitting needles, and they would be highly dangerous and cause all sorts of accidents but men would buy them anyway because it's faster. There would be a special section for knitting power tools in Canadian Tire. (Or wherever you buy power tools in the states. Walmart? I assume Americans buy all their things at Walmart.)
BTW, the knitting needles weren't the only things up there when it was actually knit. A quick look at this picture indicates they did it English style, with a man in a cherry picker throwing the yarn. Sorta.
Via Neatorama.
Related Posts: