Sunday, February 4th, 2007
Tags:
In Progress
,
Rule 30
,
Scarves & Shawls
,
Slippers
I realized I left a mopey blog post up for the past few days without replacing it with something cheery, so here's an update (sadly with no pictures, as I still can't find my camera charger). This upcoming week is going to be a busy one, so there's not much time for knit-blogging. Lots of time for knitting, though, as most of my time is spent waiting for study participants to fill out questionnaires. I'm running participants through one study for one of my profs, and then there's my honours thesis. Fortunately, they both use equipment from the same lab which means I don't have to go outside ever again! I got a chance to look at the eye-tracker that I'll be using for my own experiment. It's quite neat; everything is contained within one monitor, so you don't even have to put on a headset or anything.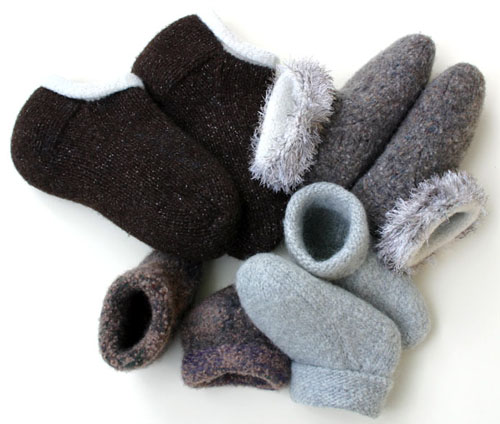 Knitting news: the lab requires you to take your outdoor shoes off when you get in, so I'm knitting myself a pair of felted slippers to keep there for the rest of the semester. I'm using the yarn that the beau's mother gave me, which will be great to pull out tonight when his family and I watch The Super Bowl. I hear the Super Bowl is a big football thing, so maybe I'll wear the Germany jersey I bought during the World Cup. Boy, do I love football.
I restarted my dad's Rule 30 scarf in a double-stranded fingering weight alpaca, and it's about a foot and a half long. It feels like I'll never finish it, and it's driving me crazy. It was a relief to start something different, which is why I started working with the above slippers. The pattern is nice and brainless, though, and the colours are great. I'm using a light grey for the 0s and blue, green and red stripes for the 1s.
As well as the sweater I mentioned previously, I've decided to start knitting an Orangina. I'm going to use Classic Elite Provence in a beautiful emerald green. It's going to be incredible. I'm a bit afraid of cotton, but it should be nice and breathe-y for the summer. I can't wait!
Related Posts: