Friday, May 25th, 2007
Tags:
Baby Clothes
,
Future Knitting Plans
Baby baby baby baby baby!
Baby! On the way to the cottage last weekend, the beau's mother noticed me knitting the little baby sweater that I recently finished (pre-blocking pictures forthcoming) and asked if she could commission a baby jacket for a grad student of her husband's. A commission?! For a baby??!! Heck yeah. I spent a few hours the next day scouring the baby pattern database on my computer and presented a small collection of samples (read: 50) for her to choose from. There were a few that both she and I liked, so she left it up to me to decide which I would prefer. I chose this: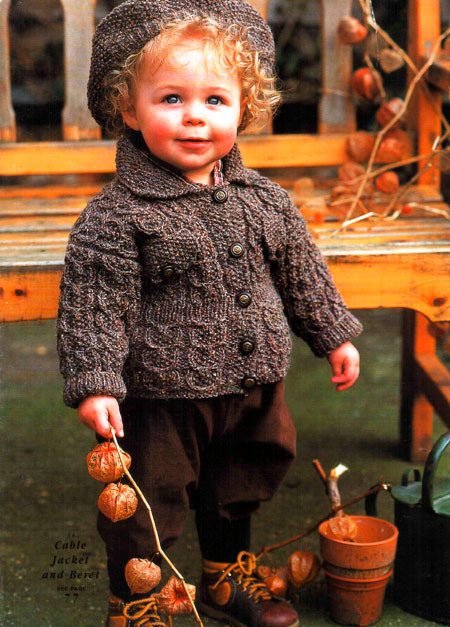 It's from Nursery Knits by Debbie Bliss; I got it out from the library a few weeks ago and it's a delightful book. So off I go to find some yarn and start a new baby jacket! I don't want to use Rowan's DK tweed, so I'm on the hunt for a similarly tweedy yarn in a DK weight that isn't as expensive. I want to do it in red, because I want a strong colour that's still bright enough for a baby. I found some that look promising:
Tatamy Tweed in Cherry, which is 45% cotton and 55% acrylic, but I don't know if I like that fibre composition. I want to knit this in at least 50% wool, preferably a superwash merino, so that it can be washed but is also forgiving of slight uneveness.
Regia 6-Ply Tweed in colour #32, which looks great but I worry about scratchiness. Has anyone knit with this who can tell me how it feels?
There's also Brown Sheep Serendipity Tweed, which has a strange breakdown of 60% Cotton and 50% Wool. Now that's giving 110%!
If you have any ideas for DK-weight tweed yarn that doesn't cost an arm and a leg, leave them in the comments! And if you don't have any babies for which to knit, might I suggest this link? (24 spoilerz ahead!)
Related Posts: