Friday, July 6th, 2007
Tags:
Books
,
Future Knitting Plans
,
Mittens
I just got out Romantic Style from the library and I thought I'd share my review here on the blog. The patterns are absolutely adorable, and I love that I no longer have to watch eBay for a cheap copy of Rowan 37 just because I want to knit Butterfly. It's right here in the book!
There are so many clever details in these patterns, from the beading in Butterfly to the subtle white trim in the Chevron Lace Top. The obvious comments about styling apply here as they do to all Rowan publications; these photos look good enough to eat. Most of the work is done in the pink, blue and purple pastels that are so popular now, but the knits themselves are classic shapes that I don't see going out of style very soon.
Despite being a book about Romantic Knits, this book is also very practical. Whenever I take a look at the introductions to each pattern in a book, they are often very flowery about the metaphorical meaning of every item and how it was inspired by each designer, etc. This is sometimes useful, but also just as often unnecessary. Romantic Knits, on the other hand, includes "wearing instructions" with each pattern, offering the knitter an opportunity to visualize the finished product and plan how to wear it so that it actually gets worn. For folks like me who have no fashion sense, these instructions are invaluable.
The patterns are all very clear, although there are some confusing details in the finishing sections (as I've noticed in many Rowan patterns). The confusion is probably due to gaps in my knowledge of sweater construction, so if you're a practised knitter with at least some experience knitting sweaters, you should have no problem with this book. If you're a novice, however, you might have some trouble because not only are some of the instructions rather obtuse, the "techniques" section isn't very good at teaching the basics and doesn't spend any time on basic knitting techniques, only on crochet. Don't get this book unless you already know how to do both, or at the very least supplement this book with a good techniques book / person who can teach you.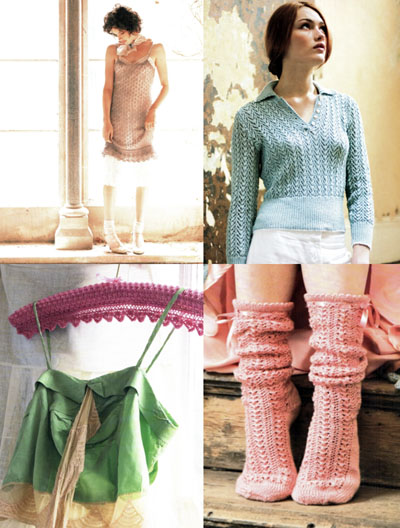 What I'd knit (clockwise from top left):
Butterfly. Of course. What more can I say?
The Chevron Lace Top. I don't play squash or lacrosse or whatever racket she's holding in her hand, but I'd certainly wear this. (It's not in this picture, but trust me, there's a weird racket in the other one.)
Lacy Bed Socks. They're classy.
Hanger Covers. These hangers are just beautiful, and Atkinson is right when she says these guys would make wonderful (and easy) gifts. I like using wood hangers for my lighter cardigans (ones that won't distort when hanging) because they're wider and they won't leave all sorts of horrible bumps and folds in the shoulders like wire hangers do. They also grab nicely onto the straps of my sparser tank tops, but sometimes I worry they'll tear them or splinter or something. Putting a bobbly hanger cover makes them just as grabby, but no longer splintery.
Coming up next…
I've gotten quite a few books out of the library over the past few months, so if you'd like a review of any of the following books, leave a comment and I'll move it up on the list!
A Gathering of Lace
The Craft of Lace Knitting by Barbara Walker
Folk Mittens
Folk Shawls
Folk Socks
Handknit Holidays
Hats On!
Knitter's Almanac
Knitting Around
Knitting for Baby
Knitting Marvelous Mittens
Knitting Nature
Knitting On The Road
Knitting Without Tears
Knitting Vintage Socks
Loop-d-Loop
Nursery Knits
Romantic Style
Scarf Style
(More) Sensational Knitted Socks
Shawls & Scarves
SNB Nation
Toy Knits
Victorian Lace Today
Wrap Style
Related Posts: