Wednesday, August 8th, 2007
Tags:
Books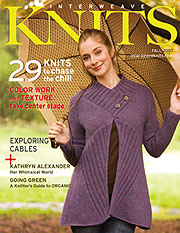 I'm once again not impressed with the preview for Interweave Knits' Fall 2007 issue.
I like the styling for the Hedgerow coat, but I don't think I'd ever wear it. The Placed Cable Aran looks boxy and shapeless (enough with the boxy and shapeless!) and did they even block this sweater? If they blocked it, they still have some work to do. Maybe it's the yarn.
I love the cables on the Dickinson Pullover, but again, it's a bit grandmotherly (that may just be the collar and the photography) and I'm not sure I'd choose it over the other more stylish sweaters I have on my list. I love the little details on the Tangled Yoke Cardigan. It looks a bit short, but that could be modded. I wish I could see the picture of the Concentric Vest, but they only have about 20 pixels of information there. The Minimalist Cardigan is ok and the Luna Dress is quite pretty, but… I seem to be getting the feeling about all of these designs. None of them really spark my interest. Which is too bad, because I was really looking forward to Eunny Jang's first issue. Oh well, I guess you're only as good as the best design, and the best design is Eunny's. (I want to qualify that by saying that it's just my own preferences; some of the designs are beautiful, just not my style.) I just want more stuff like the Gatsby Girl Pullover, y'know? Why didn't I just buy that issue instead of bothering to subscribe? Oh well, guess I'll have lots to put on the destash blog. I'll wait a few weeks in case some beautiful versions pop up on the blogosphere, but I'm not holding my breath.
Side note: is there anything that Wenlan Chia has designed that doesn't use her specific brand of yarn? This is starting to annoy me.
Related Posts: