Wednesday, September 19th, 2007
Tags:
Ideas & Inspiration
,
Other Crafts
,
Recycling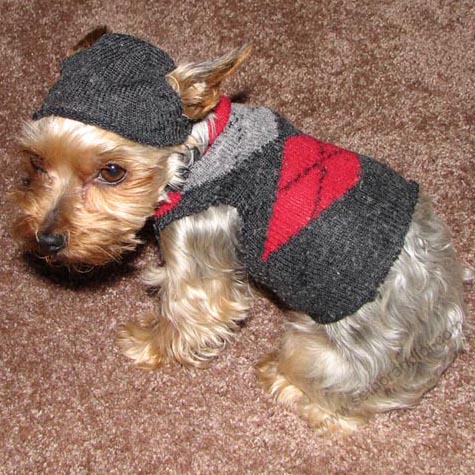 Check out this adorable doggie outfit!
Related Posts:
3 Comments to "Yorkie Outfit Project"
CUTE! Anna and I are in the library, and I showed her, and she concurred. Absolutely adorable. I want a yorkie, so I can dress it in all sorts of socks.

Comment by Liz
September 19, 2007 @ 8:38 am

My Yorkie would laugh at you and your inability to get the kick-ass outfit on him. He would not tolerate it no matter how cute it looks.

When I put cute sweaters on him he pees on them so he wins. That said, I LOVE the idea and may have to try it. He'll hate me (You can tell from the picture that the argyle Yorkie hates it too. I recognize that passive aggressive stare; he's waiting to get his revenge).

Comment by lorinda
September 19, 2007 @ 11:44 am
Sorry, the comment form is closed at this time.
---