Monday, October 8th, 2007
Tags:
Video
,
Yarn Porn and Other Stuff Porn
I'm not sure I love the illustration on this t-shirt, but I love the expression on the front sheep's face. They've even got a wolf and sheep combo in the clouds! Actually, now I love this t-shirt. Ba-a-a-ah!
Double points for being my favourite colour.
OMG, I love this too: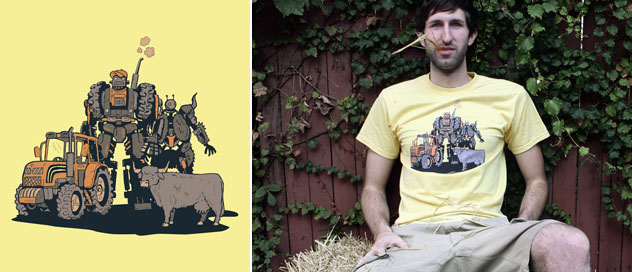 They're Transfarmers! There's something about farming that I've really fallen in love with recently. I think it's my move to the big city, I miss rolling hills and sheep and 3-storey buildings.
UPDATE, 5:28pm: Ooh, bonus video that I just found just now involving a
sheep playing soccer
! The great thing about sheep soccer is that there are never hand balls, only hoof balls.
[kml_flashembed movie="http://www.youtube.com/v/zbZc97XtB2Y" height="350" width="425" /]
UPDATE, 5:33pm: Alright, now this is just ridiculous, I have to stop reading blogs about cute things.
"…when it's time to move sheep and lambs to a new grazing field, a donkeh (sic) helps out with the moving process. The lamb-o-pack ensures no lamb is left behind… LOL"
Related Posts: