Friday, March 7th, 2008
Tags:
Cute Things
,
Ideas & Inspiration
,
Other Crafts
,
Patterns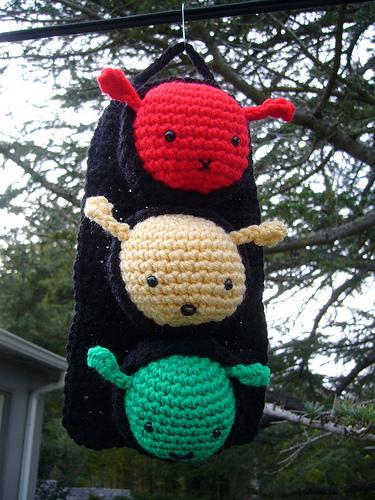 This is an adorable pattern. I love the mouth details! And the antennae! And everything!
Side note: This post could also be titled, "blogging: STOP. Intense grad work that is driving me crazy: GO!" Because that has been the situation for the past 2 weeks, and the reason why I've been accidentally not posting Saturday, Pattern Days. I promise, you'll get one tomorrow!
Here's a little update on my knitting: the collar for Colchique is slowly being finished, but it's going slower than it usually does because I have about one hour per week to knit. I used to knit on the subway, but now I mark tests and read papers. If nothing else, grad studies teaches you that the rest of your life is no longer your own. Your life belongs to the university. Oh, and it also belongs to fierce methamphetamine addiction. There's that as well.
Related Posts: