Friday, April 4th, 2008
Tags:
Ideas & Inspiration
,
Other Crafts
First, a note: The reason I have been less active on the blog over the last few weeks is that I've been working steadily and constantly on a new psychology experiment for my Masters. And now I can open it to the Internet! Be prepared for the big reveal tomorrow, with a brand spanking new contest!
And now, for today's post. If you'd like to make your tea bagging a little greener, try this reusable tea bag at Craft Leftovers for your loose-leaf teas. Isn't it neat?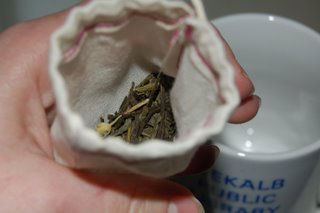 For those tea connoisseurs in the audience, you know that scrunching your tea up too much leaves them with little room to fully release all their flavours and oxycontins and hoochimawhatsits and such. A tea ball is nice sometimes, but I find they're too small and compress the tea leaves too much.
I spent so long trying to find a little metal loose-leaf tea basket for my tea pot, and still to no avail. (I've found a few since then, I just don't drink as much tea anymore.) They're available with many tea pots, but not really on their own.
This is a great idea for those of us who have lots and lots of loose-leaf tea but can't find a little basket to put them in. If you want a nice big area in which your tea can float around, make an extra-big tea bag and see how that works!
*If this post is incoherent, it is because I have been in the lab all day and drank a whole cup of coffee. I rolled up the rim and it said please play again

Related Posts: