Wednesday, May 28th, 2008
Tags:
Future Knitting Plans
,
Ideas & Inspiration
,
Other Crafts
,
Techniques Tips & Tricks
,
Tutorials
I've fallen in love with Kanzashi. Here's what Wikipedia says about them:
[[Kanzashi]] are created by Japanese artisans from squares of silk by a technique known as tsumami. Each square is multiply folded with the aid of pincers and cut into a single petal. These are attached to backings of metal to create whole flowers, or attached to silken threads to create strings of blossoms…. Geisha wear different hana kanzashi according to the month, or public holiday. In the summer months (June to September), jade ornaments with white or silver themes are worn. During the winter months (October to May), tortoiseshell and coral kanzashi are worn.
Here are some beautiful Kanzashi I've found on the web: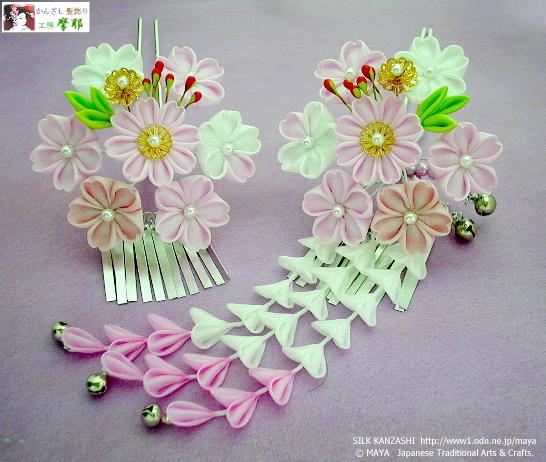 Japanese Hair Ornaments for Geisha Kimono Costume & Cosplay
Puchi Maiko Kanzashi from Kimono Fabric
I especially love the ones depicting Umes (plum blossoms), the ones with the rounded petals at the top of this beautiful spread: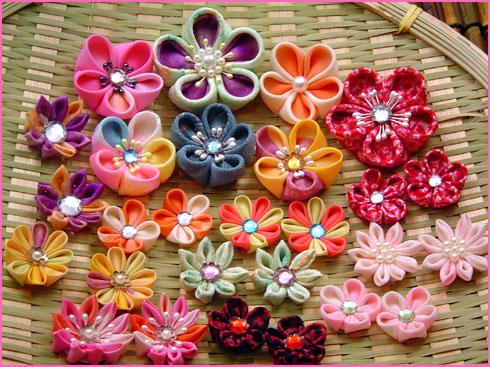 Summer Lovin' Flowers, Hairclips and Chidori!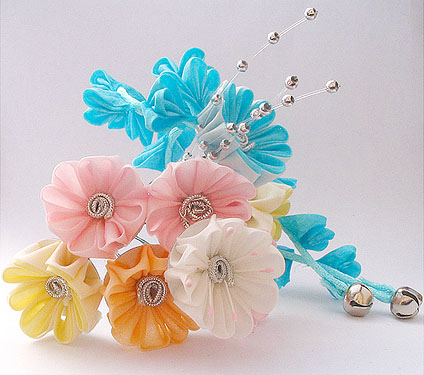 Here are two great video tutorials for making kanzashi:
[kml_flashembed movie="http://www.youtube.com/v/BJZFqOLKRNo" height="355" width="425" /]
[kml_flashembed movie="http://www.youtube.com/v/mQCQZZa-5ac" height="355" width="425" /]
And here are some extra tutorial links:
Mookychick kanzashi flower tutorial
By Schnukie Putzie
Kanzashi-Core
Kanzashi Tutorial – Part 5 by *Kurokami-Kanzashi on deviantART
Craftster
Two Craft links
Kanzashi Videos
Folded Fabric Flower pin/hair clip tutorial
Flickr Tutorial
SpanglySpangle's tutorial and Craft set
More tutorials here
Kanzashi Instructions
If you don't have the time, you can buy handmade kanzashi for a great price here.
A final note: To those who like Japanese fabric dyeing, remember that [[Shibori]] and [[Shibari]] (NSFW) are two very different things.
Related Posts: