Monday, June 16th, 2008
Tags:
This Blog is Self-Referential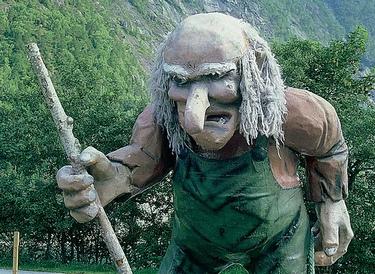 Over the past few months, this blog has become more and more popular. New people are always showing up, and I love that because it means more and more people to talk to and befriend. However, it's not just new friends showing up but also new trolls. The frequency of personal attacks in my comments section and via email has increased exponentially over the past year, and yesterday my blog camel's back was broken in this post, which was a quick but unintentionally offensive follow-up to this one. The post stepped on some feet, but instead of an "ouch" it got a three-page blitzkrieg on a web forum in response.
There is an interesting social phenomena that emerges every once in a while on the Internet. It's best described by that wonderful phrase, herd or mob behaviour, and it involves antagonizing people with greater and greater vigour, buoyed by the notion that one is not the only one doing it, so it must be fine. The anonymity of the Internet makes it even easier to take pot shots at someone because you don't have to worry about a reprimand. I don't mean simply whether or not you use your real name; cyber-bullying is on the rise among high school bullies, who use the Internet as a way to mediate the things they say to people they know, with full disclosure as to who is doing the bullying. It's easier to type mean things than to say them to someone, because they aren't being verbalized and they aren't face-to-face.
Take, for example, a group of people who all frequent the same web forum.* Because they share roughly the same set of opinions, they can feel secure in attacking a site they don't like because everyone else is saying the same thing. While it may seem to each person as if their individual comments are relatively benign, they fail to realize that if 30 people all take part in this antagonism, it can be very frustrating and somewhat distressing for the victim to bear these comments. Think about it like a giant game of keep-away: if one person does it, they're a jerk. If 30 people do it, they're also jerks, but they underestimate their jerkiness because they're just going with the flow. Additionally, the person in the middle whose toy is being tossed around will feel a greater amount of frustration with each additional place they have to run in order to get their toy back. In the end a large group of people end up victimizing a single person or site, perhaps without realizing the weight of these comments in summation. Many a blog has been rampaged by wandering forum trolls, and yesterday, that blog happened to be mine.**
I used to get only friendly communications, but an unfortunate side-effect of reader anonymity is that lately I've been getting rude messages more than once a month. Really filthy, hurtful and just plain mean comments. As an example, a few months ago I had someone tell me I should commit suicide because of the name of my blog.*** For this reason, I've decided to close the comments on this blog until an arbitrary time in the future. (That's in bold for the skimmers.) This is a temporary trial, and I may change my mind after a little while. There's no way to tell at this point. You can still comment on Ravelry if you have an account, but not here. I'm a huge proponent of freedom of expression on the Internet, but I'm also against cyber-bullying. If the only comments I get here are from bullies and trolls, then I don't want to open myself up to that. It's just not worth my time.
I fully admit that sometimes my writing style may be a bit too conversational, and too often I assume that people will visit the posts I link to clarify my position. I'm used to running a small blog read by a few friends, but it's not really a small blog anymore. I should assume that people reading my posts have never met me or read any other post I've written. On the other hand, I also don't want to have to censor myself or second guess every time I want to make a comment that might offend someone. I always welcome constructive criticism on this blog, but if the criticism is malicious, then I don't have time for it.
This is really hard for me, because I absolutely love blogging and I love hearing from you guys. For half a second I considered shutting down the blog but I knew I wouldn't be able to keep away. This is an unfortunate middle ground that I will be trying out. I may selectively leave some posts open for contests and other things, but comments will be closed on most other posts. I'll miss your comments terribly, but I won't miss the abuse. From Wednesday on, you can contact me via Ravelry and perhaps also email. (And I mean it about Ravelry! Friend me! I want to meet you all!

)
* I think one of the most shocking parts of this experience is that the bullying happened on Ravelry. While most of the insults were on my blog or via email, there were many others that happened on the Ravelry thread. There were people who were willing to bash me behind my back, but couldn't face me on my turf. Even worse, I was told in confidence by some people that they were a little bothered by the comments on the thread but then continued to watch the carnage or even encourage the abusive behaviour (lol, lmao, etc.) on the thread. Ravelry seems like such a wonderful, magical place, where everyone is supportive of each other. This is the crafting world I like to imagine, but over the past year I've started to realize that there are just as many bad apples in the knitlogosphere as anywhere else. It makes me a little sad.
** I went off on this little psych tangent because I figure some of the bullies on the forum in question will read this post and realize what they were doing. Understanding the psychological processes that lead to certain destructive behaviours can be a good way to avoid those behaviours in the future. I think it's also something I need to focus on, so it's easier for me to forgive the people who are doing this. We all have weaknesses.
*** This time they told me to stay off the road (how does my driving have to do with my supposed fierce hatred for crochet?), that I shouldn't be in grad school, that I'm stupid, that I should stay in Canada, and on and on. I don't care if these people care where my passport goes, but I worked hard to get where I am. Telling me in no uncertain terms that I am unintelligent, based on a stupid insignificant joke that they misunderstood, now that is insulting. And yet, over and over I had people claim they didn't insult my intelligence. My apologies. I didn't realize that "Your lack of true science and math is showing", "Your logical fallacy, statistical ignorance, and shallow thinking would disqualify you from passing grades in my high school classes", "I think you need to stay in grad school a tad longer", "Stay in grad school", "She's not really swift", and all the other comments (of which I'm sparing you to keep this PG) were an attack on my fashion sense. My bad. The only thing that makes me feel a little better about this is that when reporting their correspondence with me to others on the thread, my trolls never mentioned the mean things they said, only a rough gist that absolved them of any wrong-doing. Which hints that maybe they had an inkling they'd done something wrong, were feeling a little guilty about what they said to me, and maybe that these trolls are human after all.

At the first sign of a troll, this post will also be closed to comments. Don't ruin this for everyone else by posting something mean or impolite. If your comment is one you'd let your grandparents read, then feel free to post it. If your grandparents are senile or illiterate, just use your best judgment in determining whether your comment is polite. (Before we get to attacking me, the above grandparents comment was also tongue in cheek. I'm sure your grandparents are wonderful, sane people with giant libraries.)
Related Posts: