Tuesday, June 24th, 2008
Tags:
Recycling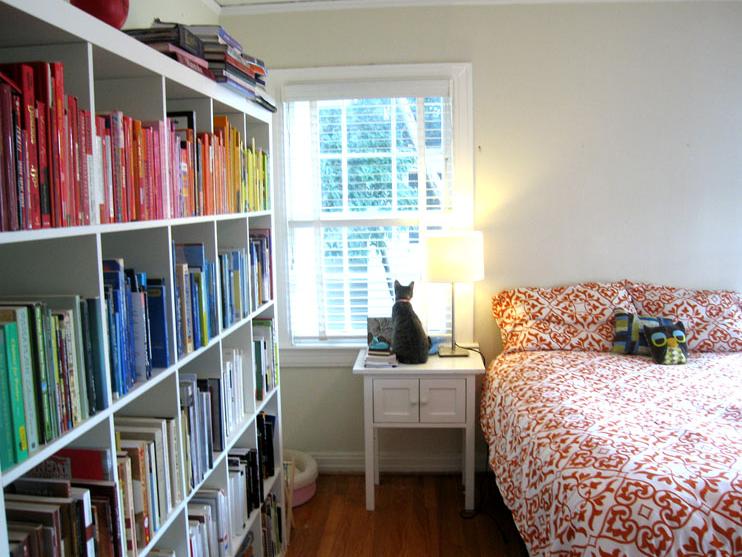 Unclutterer has a feature on how to store your fabric stash. This could be a good resource for knitters as well as sewers. There are some things with which I agree, and some that I don't. For example:
If you cannot carry the whole of your stash, then it is too big. You would never be able to save it in an emergency if you couldn't carry it, so why have more than you could reasonably save?
My aunt is a master quilter, and she has an entire room full of scrap fabric. If you want to quilt dragons, you can't just have one colour on hand and you can't just pull out that green fabric that you usually use for trees but "they'll do." You need scales, you need smoke, you need fire. You need maybe 20 fabrics in each colour if you want to make nice quilts. When my aunt first showed me how to alter a pair of pants with some fabric I'd brought with me, she asked if she could keep the rest and of course I gave her all I had. A few years later she gave me a quilt for Christmas and I was so happy to see that same fabric tucked into one of the pictures. It was so nice to see not only that she'd kept it, but also that she used it. That wouldn't have happened if she had uncluttered her sewing room. Then again, not everyone will be painting with fabric.
I like this advice:
When I bring new fabric into my home, I immediately put it into a large Ziploc Storage bag. The pattern, thread, and all other necessary supplies for the project go into the bag, as well. I write the name of the project and the date the fabric was purchased on the exterior of the bag with a permanent black marker. I measure fabric that is given to me as a gift and then put it into a Ziploc bag. On the bag's exterior, I label the size of the fabric, its fiber content, who gave me the fabric, where it was purchased, and the date of the gift. I then actively seek out projects for that fabric.
This is sort of how I organize my yarn. Yarn of the same types go into plastic bags and then into boxes (and boxes and boxes…). I like the idea of writing the fibre content and other things on the bag, and I may follow this advice from now on (once my stash diet is over and I can buy some more yarn). I would write on a label, though, so I could reuse the bag by sticking on a new label.
Getting rid of fabric: If you haven't sewn a project in a year, evaluate if you're actually going to make the project. If the answer is yes, it goes back in the bin with a re-evaluation date written on the bag. If the answer is no, get rid of the project in full. After a project is complete, immediately get rid of scraps. You don't have to throw the scraps in the trash (you may have more than a yard of scraps), but you need to get them out of your house. Scraps are clutter.
I like the first idea, but not the second. I don't think scraps are clutter. They can be clutter if you're not a quilter, but they can also be useful for patching old pants or making little toys and things. Why not look at it as a creativity exercise and see how you can use up your scraps? If you want to organize them to make them less cluttery, keep a bag of scraps or keep two or more bags with different sizes or colours. But don't just throw them away because you can't make a dress out of them.
You can go to the page for a great list of ways to destash.
Related Posts: