Thursday, September 18th, 2008
Tags:
Ideas & Inspiration
,
Other Crafts
,
Recycling
My brother used to get Maclean's, and they're all over my parents' house now. Here are some things we could do with them: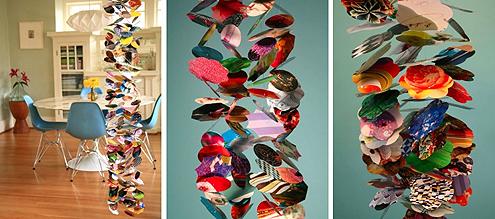 A Recycled Mobile made from Old Magazines. Hella classy.
A Magazine Box, or possibly a rectangular one to store the rest of the Maclean's magazines.
Alternate uses for magazines:
pierce with 10,000 tiny holes to reuse as tea bags
crumple up into one of those hovering balls that you use to train being a Jedi
twist small strips into a stylish mat for your front hallway
extract metallic components of the inks and recast them into pistons for an internal combustion engine
fold into origami cranes
Via Go Green.
Related Posts: