Tuesday, July 10th, 2007
Tags:
Baudelaire
,
Elizabeth Zimmermann
,
EZ Baby Sweater
,
In Progress
,
Rule 30
,
Video
This is a bit of a patchwork post. First, check out this cute new t-shirt design from Threadless!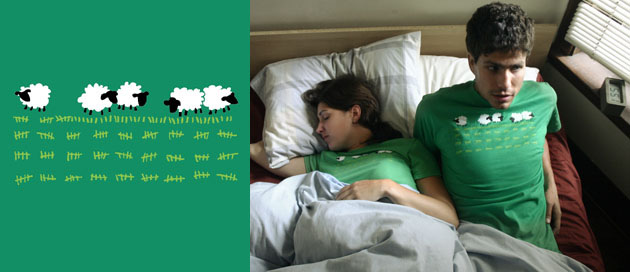 Second, this is a wonderful tip from bunchkinknits on shaping armholes that require stitches to be cast off at the beginning of rows:
The trick is to decrease one of the cast off stitches in the last two stitches of the preceding row. So for instance, if you are supposed to cast off three stitches in the next knit row, you would purl two together on the last two stitches of the preceding row (decreasing one stitch), and then only cast off TWO in the next row. The change in the line of decreases is amazing, and so much easier to sew up that all of those stair steps.
Neat! So if you have to cast off 5 stitches, you decrease on the row before and then cast off 4 stitches at the beginning of the intended row, creating a slant so you don't have a "stair" effect on your sleeves. This is especially useful if you're knitting a tank top or something that doesn't allow you to hide the stairs in a seam.
Third is an update on some UFOs: I finished the February Baby Sweater yesterday! It's officially my first finished sweater, even if it's for a baby. I sewed on the buttons using this tutorial and I knit a flower for the front that looks like a daffodil. I'll be taking photos this afternoon and I'll have a post ready for tomorrow. I also finished a huge portion of my Dad's scarf over the weekend (only half a foot until I'm done), and knit up a swatch for my mom's Somewhat Cowl. No progress on Baudelaire this weekend, though; I had to read a textbook on Experimental Design and I have at least 20 papers to read and AUGH! AUGH! AUGH!
Ooh! And I caught four fish on Saturday. It was family fishing weekend in Ontario where you can fish without a license. The beau landed all my fish but at one point I decided I was going to land one but then it kept swinging back and forth on the line and I was afraid of hurting it and I touched it along the side and it was surprisingly un-gooey, but then I knew if I kept screwing around it would reverse-drown, so I let him land it so it could get back in the water as soon as possible. Le beau caught a fish that had a lure stuck in it, and the jerks had just cut the line without removing the lure. Stupid, stupid, stupid people.
I don't want this post to end on a sad note, so here's a video of a cute puppy. Arf!
[kml_flashembed movie="http://www.youtube.com/v/GpVxsZojPUA" height="350" width="425" /]