Sunday, April 23rd, 2006
Tags:
Future Knitting Plans
,
Recycling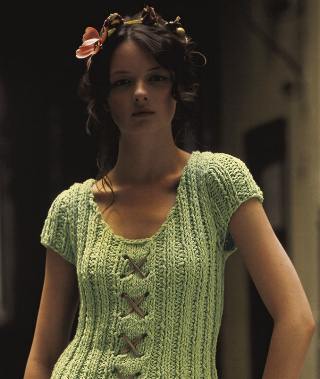 I finished ripping that sweater apart last night and this morning during the F1 race. Now I have 4 big balls of yarn (front, back, an arm and the neck) plus one slightly looser skein from the first arm that I'm going to wash first. Les keeps talking about how he wishes he had a cat so the cat could play with my yarn. Sure, they're cute when they play with yarn, but oh my! That would be a horrible disaster.
(Then again, we never chopped the fingers off my cat so I don't know what it's like to see a declawed cat playing with yarn. Is it cuter? Does the yarn stay intact?)
I have decided to knit Mariella from Rowan's Tuscan Retreat with the yarn. The colour's pretty similar, and it and "Holiday" (the wholly too-expensive Rowan yarn they recommend) have a similar consistency and shine. (Side note: I'm really excited about this new Marie Wallin character who's designing for them. I don't like glimmery yarns, but her Persephone is also quite classy.)
Read the rest »